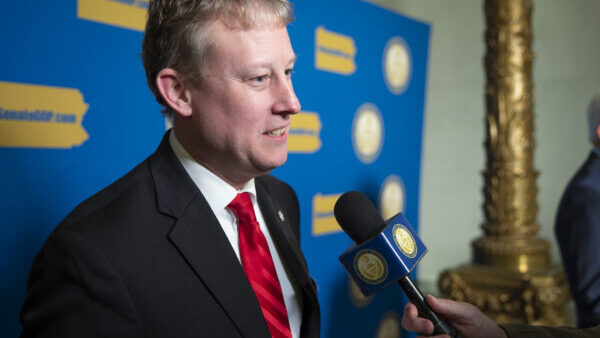 Rejecting one-time fixes proposed by Democrats, Aument's priorities include policies that permanently position PA to succeed
HARRISBURG – As the effort to pass the 2022-23 state budget is now in full swing, Sen. Ryan Aument (R-36) announced his budget priorities. His goals focus on increasing economic opportunity for Pennsylvanians, improving public safety, and positioning students for success in their future careers.
To increase economic opportunity and address the devastating effects of inflation on families, Aument will advocate for a reduction in both the Personal Income Tax (PIT) and Corporate Net Income (CNI) Tax.
Senate Bill 771, his legislation to gradually reduce the state's CNI tax to attract new employers and promote economic growth, already received support from the Senate Finance Committee. In an effort to make Pennsylvania's rate more competitive with neighboring states, the bill would reduce the CNI tax from its current rate of 9.99% to 6.99% by 2024. The rate could then be further reduced only if it meets or exceeds the revenue projections for 2024 at the 9.99% rate.
"Together, a reduction in both the PIT and CNI taxes would help every Pennsylvania taxpayer at a time when they have been beaten down by inflation and the rising costs of necessities like food and gas," Aument said. "We must reject reckless, inflationary fiscal policies like those of President Joe Biden that have created such significant financial strain, and instead focus on policies that will position Pennsylvanians for economic success and upward mobility for generations to come. Band aid solutions – like Gov. Tom Wolf's proposal to give a one-time check to every household with an income of less than $80,000 – won't cut it."
Improving public safety is another important initiative for Aument, who will focus on advancing reforms to boost police officer recruitment and retention by increasing funding for new Pennsylvania State Police classes and making a career in law enforcement eligible for an existing scholarship.
Aument is also working to improve public safety by advocating for increased mental health funding in Pennsylvania schools and communities.
Finally, Aument is pushing for an initiative that would strengthen Pennsylvania's economy by preparing students for in-demand, family-sustaining careers. A bill Aument sponsored would redesign the state's education system to better prepare students for the jobs of today and tomorrow, especially in sectors that are vulnerable to job losses due to automation.
Aument also believes the General Assembly should reengage the Higher Education Funding Commission to continue its work in improving how the state funds institutions of higher education in the Commonwealth.
"While I work to advance these important initiatives this budget season, I will continue to push for fiscal responsibility and work to block any new taxes that would only serve to burden our residents at a time when they can least afford it. I will continue to focus on policies that promote growth, create family-sustaining jobs, and expand economic opportunity for all Pennsylvanians," Aument said.
Sen. Ryan Aument (R-36) speaks with reporters in the State Capitol following Gov. Tom Wolf's budget proposal in February 2022.
CONTACT: Stephanie Applegate